David Cameron's #PigGate – when bad PR overshadows policy
So the front page tabloids (and some broadsheets) are rubbing their hands with glee at the 'couldn't make it up story' of David Cameron and PigGate.  If you're unaware of the story (where have you been?), it's about the release of the unofficial biography of David Cameron by former Conservative Party Deputy Chairman Lord Michael Ashcroft, the billionaire scorned after Cameron refused him a plum position in office in return for bankrolling the Tories for years.
Lord Ashcroft executed the perfect revenge, by producing a book with the most lurid details imaginable for a man in the top job.  The headline story of course being that David Cameron 'put a private part' in the mouth of a dead pig, as part of a 'hazing' – a ritualistic initiation ceremony – for an Oxford student society.
There were of course other details in the book, such as allegations of Cameron smoking cannabis and other such student-day antics, but the pig can't be beat.  I mean, the puns are just writing themselves.
Of course, Downing Street have said they can't dignify the story with a response, but in truth, what could they possible respond with? Nothing will quite take away the embarrassment of the situation, and Prime Ministers Questions, the weekly display of Punch and Judy politics, will be even more raucous as a result.
Quite how David Cameron will overcome the humiliation remains to be seen.  After all, many a time politicians and public figures alike have struggled to restore credibility after such reputational blows.
Just ask Ed Miliband.  During the run up to the election, when policies and ideologies should have come to the fore, Miliband will be best known for this picture: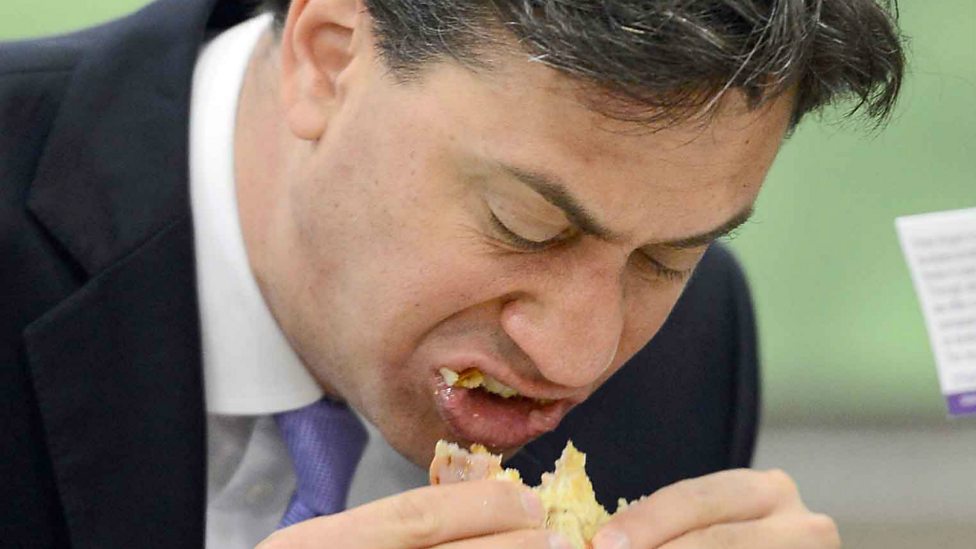 An unfortunate montage of Ed awkwardly eating a sandwich whilst on the campaign trail took the internet by storm, and even took pride of place on mainstream news. He might have had the best policies in the land, but after the bacon butty saga, we can't remember any of them, and we just can't take him seriously.
It seems that Cameron might face the same fate, except two things helps take the edge off the story:
It happened decades ago during his University days
It was penned by Lord Ashcroft, who is seen to have an axe to grind
So whether these factors, along with the passage of time helps restore some dignity to the red-faced PM, remains to be seen.  However, #PigGate does show that when it comes to politics, an unfortunate past incident, choice soundbyte (Gordon Brown and the 'bigoted woman'), or a personal scandal (Bill Clinton and Monica Lewinsky), can be a more memorable legacy than a world-changing policy.